From Oneofthepack dedicated to Lionel & Joan Serigne for all their excellent years of service to the Fisherpersons.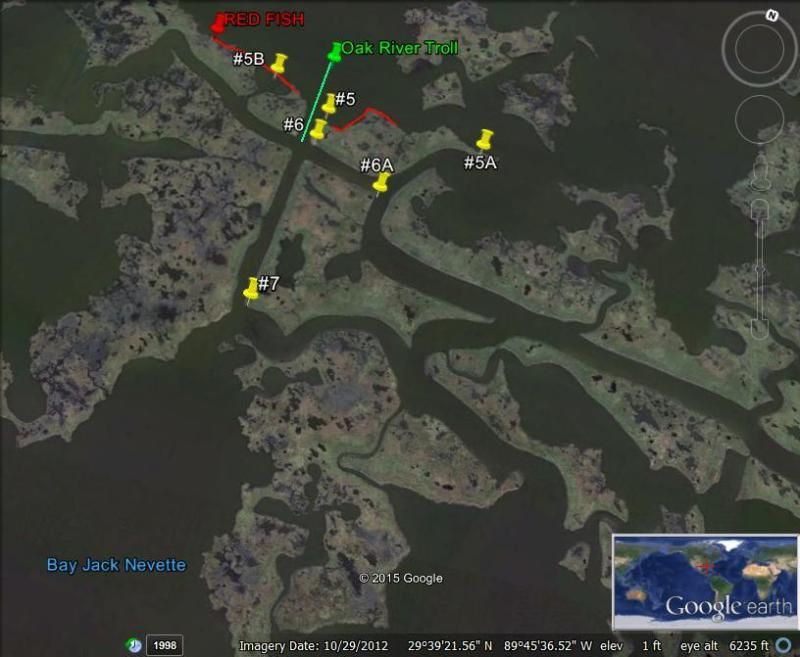 TEAM JO-JO
AREA/SPOT # 5 Oneofthepack 's # 1 TOP classified secrete spot
Year 1st fished: 60'S
Latitude: Suggest you find this info & keep for future Re: land disappearing
Longitude: Suggest you find this info & keep for future Re: land disappearing
Rating: 5 1 to 5 (1) WORTH A TRY TO (5) MONEY SPOT
Most Trout caught: 250 spot known for some nice Silverwonders
Most reds caught: 15
Biggest Trout: 3#
Biggest Red: 8#
Odd fish caught: 2.5 # Stripe Bass
Water depth: 14-16 feet East side of pipeline is the channel
Best tide: In or out, when tide is slack good spot to find moving water, tide will move here first
Type bottom: Clean
Hang ups: Some oyster shells
Presentations: Tight line along the bottom, fish up and down the drop offs, and corks in the flats, and along shoreline
Best wind (@ your back): East or West
Best wind Oak River Troll: North or South
Best (BP) boat position: East side of pipeline, just off drop off, try to put your boat in the current line Also west side of pipeline, once again put you boat just off the drop off. Position boat so you can fish current line.
COMMENTS:
Red line along shore line indicates areas for red fish, it has produced a number of them over the years we would just drift the shoreline throwing spinner baits for reds.
When the tide is falling, throw up into shallow side of pipeline, let the lure run with the current, give it a little twitch every now and then, this produced many Silverwonders & flounders, shallow side also good with corks West of pipeline other drop off, and other shallow side also good, set up and fish the same way. I like this side for a incoming tide. Position your boat just off the drop off, throw up current let lure sink to bottom (10-12) feet, fish the lure all along the bottom, and to 180* arch in front of you, the strike zone is about 145* from the bow.
Land has receded about ½ block in this area, so you can also fish away from the point and try that area too, but again fish the drop offs This spot is great for the Oak River Troll, north wind drift to just pass the cross canal, south wind drift out into the bay and/or you find 6 feet of water, as long as you are getting taps and/or catching keep drifting, seen us catch a bunch of Silverwonders doing this technique, and with most of our limit coming from same.
Suggest you check this spot out in the summer time, and note where the grass line is, the Silverwonders love the Grass line and just wait there for the bait to come through.
This spot mostly a one boat spot, so please be courteous, if there is a boat their let them have it and move on, cause if you are not in just the right spot all you will do is catch nothing and mess up the other fisherperson trip.
This spot has a aka name (Dago Spot) many moons ago (27) we use to fish with a fisherperson who own a Pizza shop on Sena Dr (By Martin Wine Cellar) in Metairie, I cannot remember his name, but remember him well. He would always bring a whole cooked chicken for us to eat, back then my son 9 (now 36) would ask me dad we going fishing with the chicken man, Big Randy loves chicken like dad. Anyway I think his name was Carlo, Carlo would always tell me he caught fish at the Conservation Camp, (where ever that was) but we always found him at spot # 5, thus the aka name "Dago" spot.
Do any of you fisherperson know who I'm referring to, if so please let me know how I can get in touch with him, I know the Pizza shop is gone, but have not heard from Carlo, (if that is his name) in many years.
Good Fishing
Team Jo-Jo & Oneofthepack